Working in the cloud

With the advent of cloud services, the ICT landscape changed considerably. With the help of working in the cloud you will have many new features available.
We have a lot of experience with cloud services because we are there to help customers on a daily basis. For questions and any faults we provide a quick solution.
Microsoft Office 365
With Office 365, you can access your email, calendar, contacts and documents. You can easily work together with colleagues on documents for example, and see each other's agenda. Now it is also possible to purchase these services as a monthly subscription. Microsoft offers a comprehensive solution for the business user here. We leave will be pleased to see a demonstration of the possibilities.
Always up -to-date
With Microsoft Office 365, you can use the best Microsoft software within your organization. You work with the latest versions of Microsof for a fixed price per user per month. This service consists entirely of Microsoft programs of different data centers worldwide.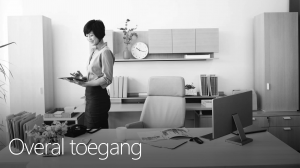 Full Access
With Office 365, your office applications (Word, Excel and Powerpoint) are accessible trough the Internet, as your business email. You always have the latest versions of your documents and have the ability to consult them on any device. Whether you. work on a laptop, tablet or smartphone.
Quick Start
Signing up for Microsoft Office 365 is very simple and you can then immediately use all these services. You can even take a 30 days free use package of the services. We will assist you in setting up your Office 365 environment. Please feel free to contact our cloud specialists.